Authored by Chetan Ahya, Chief Economist and Global Head of Economics at Morgan Stanley
Will the V Disrupt the V?
We received a stark reminder this week that the fight against COVID-19 is not over, as new cases globally thrice reached new highs. Unsurprisingly, the number one question we get from investors is whether this resurgence disrupts our call for a V-shaped recovery. The answer is no. We remain confident that the global economy will regain its pre-COVID-19 levels in four quarters and DM economies in eight quarters.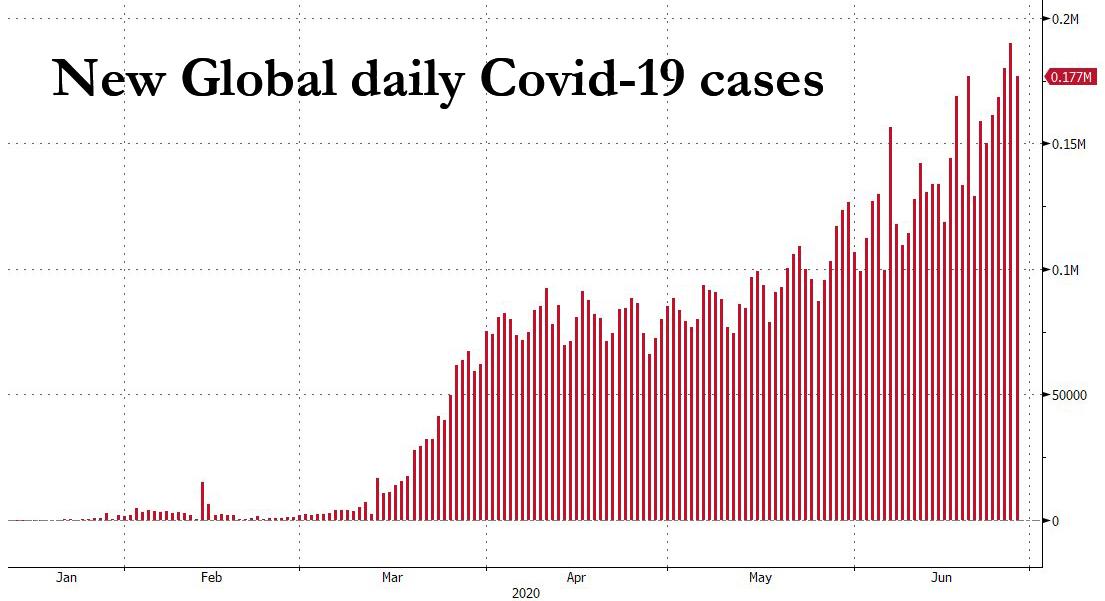 Three debates dominate our dialogue with investors – the impact of the surge in new cases on growth, continuing high unemployment and flagging resolve for fiscal stimulus.
First, the resurgence: Local officials in new US hotspots have paused plans for reopening and are re-emphasising the need for face coverings and social distancing. This will likely lead to some loss of economic momentum in those areas, but continued improvement in most other states should lift the aggregates. We'd note that social distancing is less likely to exert a drag on overall consumption spend than expected, as consumers have adapted. The dollars not spent on segments like travel and dining out are being diverted to other categories.
Looking at the top 20 states by GDP, the majority have achieved higher levels of mobility and economic activity without a rise in new cases, pointing the way to renewed economic activity without a significant rise in infections. In particular, the reopening in the Northeast will bolster overall economic activity.
In Asia and Germany, expanded testing and tracing allow policy-makers to quickly zero in on new COVID-19 clusters. Until a vaccine is broadly available, we could see similar selective and rolling responses, but in aggregate we see global economic activity continuing to improve.
Progress on treatment and vaccines is also encouraging. Our US biotechnology analyst Matthew Harrison sees a high probability of success for antibody approaches to treatment, with availability by the end of August. He continues to expect that a vaccine could be approved for emergency use by healthcare workers in autumn 2020, with vaccines available to the general population by 1Q21 and herd immunity achievable by summer 2021.
Second, unemployment: Investors are worried that high unemployment will constrain the pace of recovery in consumption. We argue that the link between the labour market and consumption is looser than commonly thought. During the GFC, for example, consumption in the US had already recovered to pre-recession levels by 3Q10, even though the unemployment rate remained just 50bp off its peak at 9.5%. Similarly, consumer spend in the euro area had almost recovered to pre-recession levels by 4Q10, although unemployment continued to hover around 10%.
Moreover, the starting point for household balance sheets suggests that they are in far better shape coming into this recession. Higher- and middle-income segments of the workforce, which account for the larger share of consumption, have been less impacted. And lower-income households, while disproportionately affected, have been shielded from the worst effects of the recession, with two-thirds of the eligible unemployed in effect collecting more than their pre-recession earnings.
Third, policy stimulus: As our head of US public policy Michael Zezas wrote in last week's Sunday Start, most investors believe that further fiscal expansion could face political roadblocks. In contrast, we think that policy-makers have rediscovered active fiscal policy, using it without hesitation this time around – particularly as the recession was triggered by an exogenous shock in the form of a public health crisis. We expect US policy-makers to enact an additional US$1 trillion in fiscal stimulus. While investors are laser-focused on how the virus outbreak will influence the outlook, we think that they should not forget about the sizeable policy backstop, which is a key driver in supporting the recovery.
Looking ahead, we do expect new clusters of infections to emerge, and our base case assumes a second wave in the autumn and winter. However, we think that public health systems will be better positioned to manage the second wave. Testing and tracing capacity are ramping up, the authorities are more attuned to potential strains on medical equipment and services, and we believe that they will stockpile supplies ahead of the autumn. We think that renewed social distancing and selective and rolling lockdowns will keep outbreaks in check without strict nationwide measures (like the ones we saw in March-April this year). Hence, we believe that the global economy will be able to sustain its recovery and avoid a double dip, keeping us firmly in the V camp.